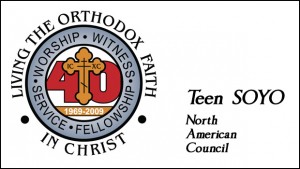 Teen SOYO
In 1951, Metropolitan Antony Bashir, Primate of the Archdiocese of North America from 1936-1966, founded the Society of Orthodox Youth Organization (S.O.Y.O.) The letters of abbreviation originally stood for Syrian Orthodox Youth Organization.

Women of St Andrew
WOSA is a member chapter of Antiochian Orthodox Christian Women of North America (AOCWNA), founded in 1973 through the vision of His Eminence Metropolitan PHILIP (Saliba) as an organization of the Antiochian Orthodox Christian Archdiocese of North America.
One of the first organization to finalize plans for the icon they will sponsor, the Women of Saint Andrew, has chosen four saints to be depicted who exude what we all aspire to be. The four women chosen are Saints Perpetua, Felicitas, Nonna and Macrina the Younger. These women saints were wives, mothers, daughters, sisters, servants and leaders. They provide examples for the Women of Saint Andrew, and indeed everyone else, at every stage of life.

The Order of St. Ignatius
St. Andrew Orthodox Church of Lexington, Kentucky boasts eleven active members of the Order of Saint Ignatius of Antioch. Besides supporting the philanthropic work of the Order on the Archdiocese level, the St. Andrew Orthodox Church chapter supports many local initiatives, such as providing funds for our Church School, financially underwriting our youth to attend Antiochian Village in the summer, and contributing to God's Pantry, an area wide outreach ministry.
The Order meets regularly for business and social activities during the year.